Starting Prices Range between $39,900 (Work Truck) and $105,000 (RST) + DFC
Silverado Electric Platform | Powered by Ultium and Ultifi
The All-Electric Chevy Silverado full-size pickup is designed from the ground up to be an EV, harnessing the best of the Ultium Platform, GM's platform that will offer electric propulsion, exhilarating torque, zero emissions and Silverado's proven capability. Further building on the Ultium platform, GM has introduced Ultifi, the brand's new connectivity software that will keep your vehicle functioning and personalized with over-the-air updates.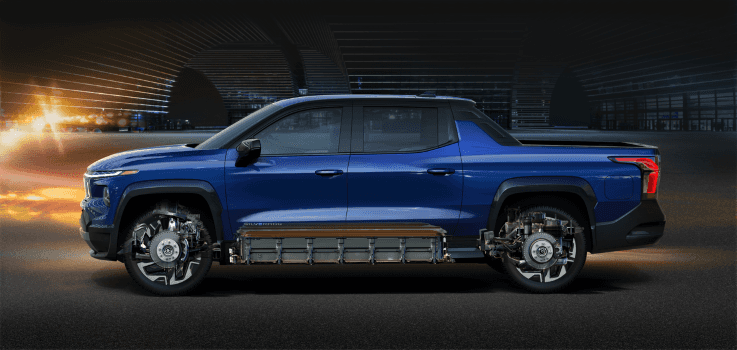 Initial Performance Numbers
The Silverado will offer customers a GM-estimated range of more than 400 miles on a full charge, 660 HP, 4.5 second 0-60 and over 780 lb.-ft. of torque (towing up to 10,000 lbs.). In order to help with tight turns, Chevrolet has confirmed the availability of Four-Wheel Steer, a chassis feature that enables the vehicle to steer all four wheels, allowing for tighter turning and performance. Plus, Enjoy hands-free driving and trailering across 200,000 miles of compatible roads in the U.S. and Canada with Super Cruise Driver Assistance Technology.
Interior Features, Cargo Space and Carrying Capacity
Retail models will have a segment-leading fixed-glass roof available, offering expansive visibility, increased headroom, sun ray filtration and an enhanced experience of spaciousness for both front and rear passengers. This is the first application of an available fixed-glass roof on a GM pickup in the full-size truck segment. The hood will no longer house the engine, but will be a space for additional cargo. The Multi-Flex Midgate with pass-through will allow owners to carry items over 10 feet in length in the truck bed and with the 60/40 flip and fold rear seats retracted. The standard bed with the liftgate and seats in their original positions will hold items up to 5ft. 11in. in length.
Battery Charging Options
There are 3 initial ways that the Silverado will be charged. Level 1 home charging will allow the vehicle to charge on a standard 3-prong 120-volt household outlet. Level 2 home charging, the recommended home charging solution for most drivers, will use a 240-volt household appliance outlet for the fastest at home charge times. The third charging solution will be DC Public Fast Charging that will get a GM estimated 100 miles of range in 10-minutes. Owners will have no issues finding a charging station with over 40,000 available to the public.
Factory ZERO Based Production
General Motors President Mark Reuss announced that the All-Electric Silverado will built at factory ZERO, GM's first fully dedicated EV assembly plant. Factory ZERO has incorporated sustainable manufacturing into its blueprint in order to strive towards a brighter future powered by renewable energy. As said by GM's Vice President of North America Manufacturing and Labor Relation, Phil Kienle, "Factory Zero will serve as GM's flagship assembly plant in our (General Motors) journey to an all-electric future."
When Will Reservations be Open?
The vehicle recently debuted at the Consumer Electronic Show (CES) on January 5th, 2022 at 12PM EST. Reservations for the all-electric Silverado are currently open at Walser Polar Chevrolet. If interested, please submit your reservation here!